Yep, that's my work mobile number below.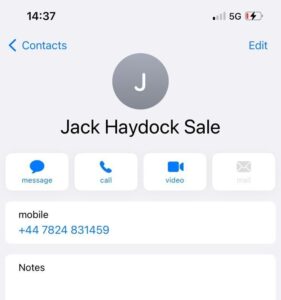 That's how easily your number can be shared should it fall into the wrong hands. That's not to mention sensitive company data, customer information and personal bank details. Only this week was a global retail company subject to a data breach.
Over the last 3-5 years a lot has been made over the use of data and the policies put in place to protect it. With businesses now required to have certain procedures in place. Plexstar work with companies to ensure they comply with the latest regulations and directives, and to reduce the stress and worry associated with data destruction.
Data Sanitisation Process
We conduct a rigorous and thorough process when it comes to data sanitisation and destruction. Here's the steps we take to keep you and your business safe:
Appropriate containers provided to classify and organise your old assets.
Once classified, items are then securely tagged and loaded onto our bespoke CRM system. This allows for full tracking and auditing.
Our full security cleared staff will then load assets onto secure and fully tracked vehicles, read for transportation to our high-security purpose-facility.
Assets are scanned in on arrival and are then moved to our secure data sanitisation room, only accessible to designated members of staff.
Data contained is then erased using the latest software or assets are physically destroyed such as hard drive shredding, depending on customer preference.
Full certification of disposal is then provided on completion of the data destruction process.
Choose Plexstar To Handle Your Data Destruction Securely
To find out more about how our data destruction services can help keep you and your business safe, either give Plexstar a call on 01942 811 483  or visit our website for all matters IT disposal.